Resident Spotlight
Beating the Age Game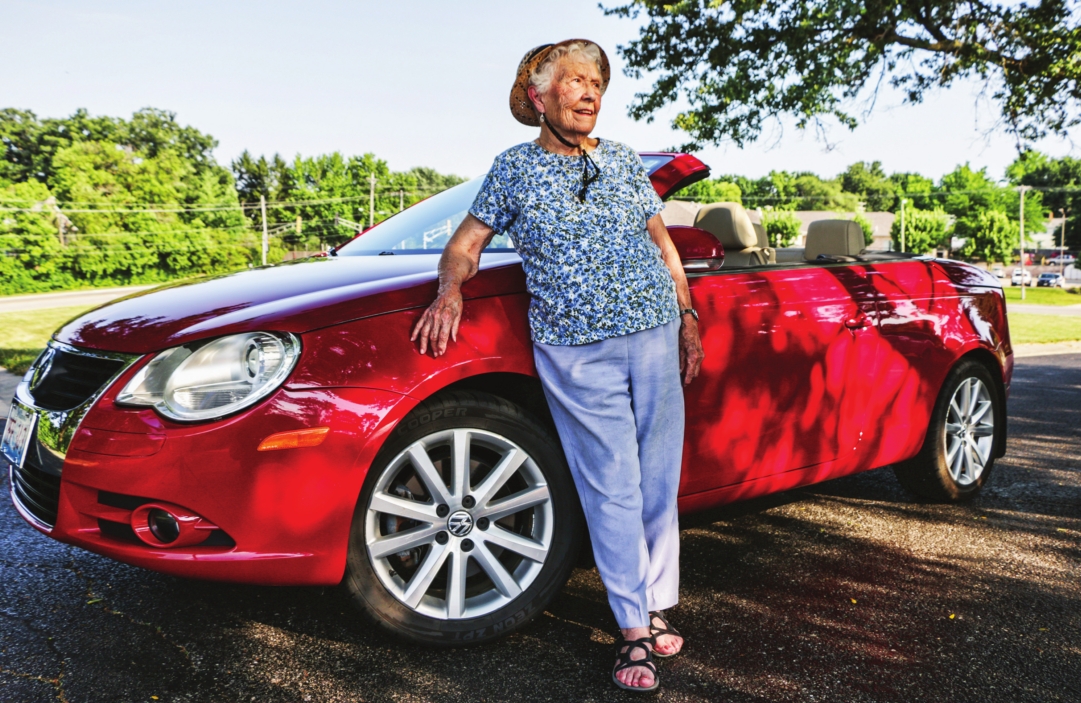 Kathleen Pettyjohn still drives around Springfield in her red convertible Volkswagen. She's 92 years old, but for her, age is only a minor detail.Pettyjohn is among those who have discovered that aging doesn't have to mean exhaustion, frailty or pain. Maintaining healthy habits helps keep the mind and the body fit and strong. We talked to retirees at Fair Hills Residence in Springfield to find out how they stay young and young at heart.
Kathleen Pettyjohn's experience with fitness started early – in more ways than one. She recalls her mother waking up the kids at 6 a.m. most mornings to go hiking outside. That formative experience stayed with Pettyjohn and still drives her active lifestyle."I was raised to keep myself going," she said.
A Springfield High School graduate and former teacher at Harvard Park Elementary – among other jobs – Pettyjohn has kept busy in retirement. She jokes that she doesn't get up very early anymore, "because I don't have to," but she still swims regularly, lifts weights and uses the treadmill. "You can be busy, or you can go sit down someplace and pout," she said. "It makes all the difference in theworld. When I can't exercise, I'm miserable."
To keep her mind sharp, Pettyjohn plays bridge and still enjoys teaching when an opportunity arises. She even started a book club, in which she mainly reads biographies and fiction. "If I start a book and it's junk, I just close it up and get rid of it," she said. "I don't have time for that." Pettyjohn says the best advice she could give senior citizens is to stay physically active. "It's one of the most important things you can do," she said. "It not only affects your body; it affects your mind."
Carolyn MacDonna is a lifelong learner. She graduated from Southern Illinois University with a degree in speech pathology at age 40, and she's still learning new things at age 83. MacDonna came from a family of artists, and she taught herself to draw, carve wood, stitch intricate patterns and even decorate ornate Ukrainian Easter eggs. She won third place in an art contest last year at the Illinois State Fair for a stipple drawing of an apple. MacDonna wakes up at 4:30 a.m. three days each week to get treatment for a chronic medical issue, but she doesn't let that illness slow her down. She says she has always been athletic, and she walks regularly for fitness. "I have to keep remembering, 'Whoops, I'm 83,' " she said. MacDonna says her education in speech pathology taught her a lot about the brain's need for stimulation. "It's use it or lose it," she said. "I believe very strongly in keeping yourself able."
Although MacDonna does make an effort to remain healthy, she also has a fearless attitude toward enjoying life and is proud of her age."I figure I'm 83; what have I got to lose?" she said. "I'm going to go anyway, so why worry about it?"
Contact Patrick Yeagle at pyeagle@illinoistimes.com.
A Day in the Life of a Standardized Patient
Excerpt from: Aspects with the School of Medicine 
By Lauren Murphy
What does it take to be an SP? Often, a desire to help. And, of course, some good acting chops. "Standardized patients need to be accurate, realistic, consistent, reliable, and natural," explains Aiello who has been director of the PDL at SIU since 2000. SPs also must have "a desire to ham it up!" 93-year-old Bebe McKean adds. McKean began perfecting her acting skills 35 years ago as one of the School's first SPs. McKean still recalls her first experience as an SP. "I thought, 'Oh, I'll be really good at this!' so I  memorized everything. The first student I had, I told him everything I knew," she laughs. "I blurted out everything and I thought I was doing such a good job!" SPs are given cases for each simulation. While SPs do not receive scripts, they may be given an opening statement to use. SPs are also given character names, demeanors, and facts about their medical history and illness, such as when the illness began and how long they have experienced symptoms.
"My favorite case to play was an old ladu who had a drinking problem and was in denial," describes McKean, who continues to work as an SP for the School of Medicine. "I was suupposed to be real' crabby and uncooperative, and I'm not normally one of those people at all." Each case consists of fine components: history of the chief complaint, past medical history, a review of family hisotyr, a review of the systems and a physical exam. "A large number of our standardized patients prepare and study- they want to do a good job, it shows," reports Aiello, who says medical students and SPs must buy in to the process for the training to be successful.
Following the case, SPs are trained to provide feedback by reinforcing things that students did well and suggesting how studentw could improve upon their interpersonal skills. "The SPs are ritical to our learning, and I alwayd find the feedback surprising," explains fourth-year medical students Rachel Segal. "With bedisde manner comes personality, and the ability to work with standardized patients allows us to leanr about our own personality- what works or what doesn't wor;, the naunces of different encounters, phrasing, tone or body language, and it even gives us a safe place to be able to try new techniques and receive feedback." SPs understand the importance of that feedback as medical students prepare to become physicians. "We're always on the students' side," says McKean. "We want them to succeed. They are learning, and you want to do whatever it takes to give just a little bit of a boost or a little bit of an understanding that they might not have gotten from the text book."
Since becoming an SP 35 years ago, McKean says she learned a thing or two about medicine. "I'm planning on putting my own shingle out any day now!" she jokes. "My kids call me Dr. Mom, and no matter what is going on with someone, I've got it all figured out." Working as an SP also has some unexpected benefits, says Aiello. "SPs' experiences with med students empower them to ask questions of their real-life doctors," Aiello explains, recallingone SP who realized he was having a heart attack after recognizing his symptoms were similar to that of a patient he once played. Though medical education is rapidly evolving. Aiello says the human interaction between SPs and medical students remains key to students' learning. "That exchange between a standardized patient and a student is initmitanle and irreplaceable," Aeillo stresses. "When a student has to tell an SP that he has cancer or that his wife isn't going to make it, you can't replicate that with a patient simulator or a computer program."
Medical students agree. "You never know what is importatn to someone, and working with the SPs allows us to have insight into how patients perceive us and what we can do to improve," says Segal. "We are always evolving thoughout our medical career, and it's unique to have feedback as we continue to grow and our skill sets advance."
10 Years of Pure Pigment Pleasures
By George King
"There ought to be a Springfield area pastel painters organization!"
That was the basic statement of fact and the call to action George King made in 2006 to his fellow classmates in one of the weekly sessions of Sheri Ramsey's Introduction to Pastel Paintings class at the Springfield Art Association. They were all "in the zone", concentrating on underpaintings, big shapes, values, center of interest and all the other basics that Sheri so skillfully imparted to that particular gaggle of eager learners. Jarred out of their painting reverie, a few ears perked up. Then the buzz began and, as they say the rest is history – a very productive and expansive history at that. The Illinois Prairie Pastel Society was born (The original name was Springfield Area Pastelists).
What quickly followed George's urging was a meeting or two of seven class members who became the founding members of what is now IPPS; George, Rich Ford, Dee Belter, Mary Lou Hicks, Connie O'Sullivan, Gwen Lewis and Shirley McHaley. That same year, two more painters joined including current 10-year member Barb Drake.
Emboldened with energy and wanting to show their wares, these original IPPS members held their first show at the Illinois Presbyterian Home in the spring of 2007. The home's gracious residents and friends and family attended. It was a warm and wonderful beginning to a decade of shows and presentations where hundreds would eventually view the unique works of IPPS artists.
IPPS would continue to grow in numbers and stature with founder King serving as president until 2013. Soon, most of the area's veteran pastelists were members including Sheri Ramsey herself, Tracey Maras and current president Sue Scaife.
Numerous workshops were organized featuring nationally known pastelists like Michael Chesley Johnson, M. Katherine Hurley, Liz Haywood- Sullivan, Robert Carsten and Anne von Her. In addition, mini- sessions were conducted to provide the growing membership with the latest pastel techniques.
The first 10 years have brought generous workshop and show opportunities to IPPS members. But, IPPS painters have also reached beyond studio and gallery settings to bring the beauty of pastel painting to the community. Creating "collaborative" paintings for each new Habitat for Humanity homeowner became a signature outreach effort. Although short- lived, the IPPS/Chatham Chamber of Commerce business art experiment had positive impact on the area. In addition, the group created an official Springfield City Christmas Ornament for the St. Joseph's Home and had a major role in creating the Lincoln Memorial Garden "Art in the Garden" event.
Illinois Presbyterian Home Resident Places 3rd at Illinois State Fair
In August, Fair Hills Apartments' resident Carolyn MacDonna was awarded a 3rd place ribbon in the Illinois State Fair for her pen and ink drawing (shown here). Her winning artwork titled, The Apple, was created primarily using a technique called stippling. In stippling, the artist uses a pen, brush or other tool to create dots rather than strokes or lines. The closer together the dots lie, the darker the image appears in that area showing great contrast and depth to other areas with less dots. 
When Carolyn was notified of her 3rd place in the competition, she asked, "Is that because there were only three entries?" No, she was told, there were 117 entries. Wow, that is something to celebrate. It's clear the judges saw what many of us in the Fair Hills Community have known all along – Carolyn is one talented artist.
For this state fair competition, Carolyn needed to choose a piece of artwork that she had completed in the last two years. She has a great deal of work to consider entering, but that timeframe did narrow it down a bit.
She is particularly proud of a charcoal drawing she did of Charlie Chaplin in his later years, but it was beyond that timeframe. She thought the drawing she chose, which she did last summer was the best for the category she was entering. The judges obviously agreed with that.
Carolyn, a retired speech pathologist, says that art has always been a part of her life. From an artistic family, her brothers and sister were involved in the arts and music – several going on to professional careers in the arts. Her art -- It's something that she still loves to do today.
Carolyn and her husband, Dave, have lived at Fair Hills since last November. Married 60 years in May, they have five children, 16 grandchildren, and four great grandchildren. 
A Purpose Driven Life
Shirley Devore, has always held true to her Faith and believes each day is a gift and it is her duty to use time on Earth purposefully. Moving into Fair Hills Apartments she did not give up her independence, but did let go of the chore of shoveling snow and raking leaves. All she has to do is take a few steps out her door to join in Bible Study and other activities as well as a daily nutritious meal at Fair Hills Residence. What a great way to continue healthy aging!
This past summer, at age 92, she was diagnosed with colon cancer but Shirley refused to let the news beat down her spirit for life. And, this did not go unnoted by her doctor who said with most patients her age many physicians would not recommend having the procedure; instead they would send the patient to hospice. However, after meeting Shirley and observing her zest for life, the surgeon said; "I'm going to take a chance on you, most folks your age are depressed about their age and don't have the energy to fight health concerns, but not you".
Sure enough, her recovery went beautifully and she is back to spending time with her great grandchildren, often teaching them Scripture fulfilling her purpose of guiding them to grow up and become the same kind of blessing and inspiration she is to all who know her.



Lola 16, Jaden 16, and Kai 13 spend quality time with their grandma Shirley here at Fair Hills. Shirley enjoys reading scripture to them and her grandchildren enjoy learning from their grandmother what it means to be a Christian.ou!